Hip replacement surgery is occasionally required to replace worn-out or damaged hip joints. Traditional hip replacement surgery is invasive and may necessitate extensive postoperative physiotherapy.
Anterior hip replacement is a minimally invasive technique for this repair, offering faster healing, less pain, and better mobility than conventional procedures in the past. Hence, learning about anterior hip replacement in Bhubaneswar is crucial to improving your quality of life.
Dr. Sandeep Singh, one of the best orthopedic doctor in Bhubaneswar, is renowned for his competence in joint replacement procedures, especially hip replacement. He has extensive experience in minimally invasive orthopedic surgeries, arthroscopic surgeries, and sports injury management.
Due to years of experience, Dr. Sandeep Singh has gained a wealth of expertise in various orthopedic procedures, including fracture treatment, knee replacement, ACL reconstruction, etc.
To learn more about anterior hip replacement, read this helpful article.
First, let's understand,
What is Anterior Hip Replacement Surgery?
One of the most remarkable advancements in orthopedics is the development of hip replacement surgery. Hip surgeries have been approached in various ways, each having its benefits and drawbacks.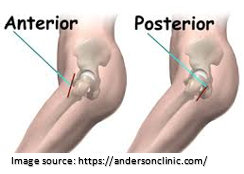 During an anterior hip replacement procedure, the doctor creates a small incision near the front of the hip to provide access to the joint to perform the reconstruction.
Then, the surgeon replaces the hip joint with an artificial one to increase mobility. Afterward, the surgeon removes the damaged bone and cartilage that limit movement or cause pain.
Who are Candidates for Anterior Hip Replacement Surgery?
Anterior hip replacement surgery is not a new technique, but it is becoming more popular because it is less invasive and has a quicker recovery.
Anterior hip replacement is not appropriate for everyone who requires such surgery.
Most candidates are, but those with uncommon degenerative conditions or extremely overweight might not be able to have the anterior procedure.
Additionally, complications are more likely when there is excessive muscle and fat. However, the majority of patients who are interested in anterior hip replacement surgery are typically qualified.
Consult one of the best ortho doctor in Bhubaneswar and look at the options to ensure you are eligible for anterior hip replacement

Anterior Vs. Posterior Hip Replacement Surgery
In the past, posterior hip replacement surgery was the most popular method.
To reach the hip joint during this procedure, an incision is made on the side of the hip rather than the front.
Although posterior hip surgery offers better access to the joint, anterior hip surgery is less invasive.
Remember that the posterior approach has improved in terms of recovery time over the years while maintaining an extremely high level of safety.
How Long Does An Anterior Hip Replacement Surgery Take To Recover?
After surgery, patients can usually start moving around within a few hours, though they will probably need crutches or a walking cane for support.
Patients typically require those support devices for one to two weeks.
To regain full mobility, physiotherapy may be necessary for some patients.
Patients generally need three to six months to fully recover from posterior and anterior hip replacements before they can resume active sports.
What are the Benefits of Anterior Hip Replacement Surgery?
The anterior approach has several significant advantages, one of which is that the surgeon needs to make fewer tissue cuts to reach the bone.
Instead, the surgeon can move the muscles and tendons to the side when inserting implants. As a result, recovery times are shortened, and overall pain is decreased.
Physical therapy and a shorter hospital stay speed up the overall recovery process.
It means a quicker return to the quality and mobility of life attained before the hip's beginning to limit either.

What are the Risks Associated with Anterior Hip Replacement Surgery?
There are risks, just like with any surgery of this type, which should also be discussed with your orthopedic doctor in Bhubaneswar.
Anterior and posterior hip replacements are now among the safest surgeries a patient can have, thanks to advancements in the field of hip surgery.
Although this may vary depending on the surgeon, one drawback of anterior hip replacement is that it typically requires more time to complete.
Both anterior and posterior procedures carry the risk of hip dislocation, particularly in the days and weeks following the surgery.
However, anterior hip replacement patients are less likely to suffer a dislocation.
If you undergo anterior hip surgery, you might feel tingling or numbness for a few weeks after the operation.
The nerve that supplies sensation to the outer skin of the thigh may be unintentionally damaged during this procedure. Also, there is a chance of infection.
Make sure you know the details and what must be done to restore the possibility of a better life.
Make an appointment with Dr. Sandeep Singh, a seasoned orthopedic doctor in Bhubaneswar, to know more about whether this procedure is right for you!