If you're like the average smartphone user, you're on the phone for hours a day, from the moment you wake up until you go to bed, with minimal downtime in between.
For those who hold the phone or type for several hours at a time, constant use of smartphones can cause severe hand pain.
Phones have progressed from big rotary phones to handheld computers that we hold for most of the day. On the other hand, the human hand has yet to adapt to fit the device's form.
A common injury is known as "texting thumb" or "trigger thumb." It is a repetitive stress injury formally known as stenosing tenosynovitis. When you hold your smartphone incorrectly, this situation arises.
Smartphone use is also linked to more severe issues like tendonitis and sore muscles in the arm. Many people suffer from hand pain due to the overuse of smartphones. As a result, they require proper treatment from a good Orthopedician.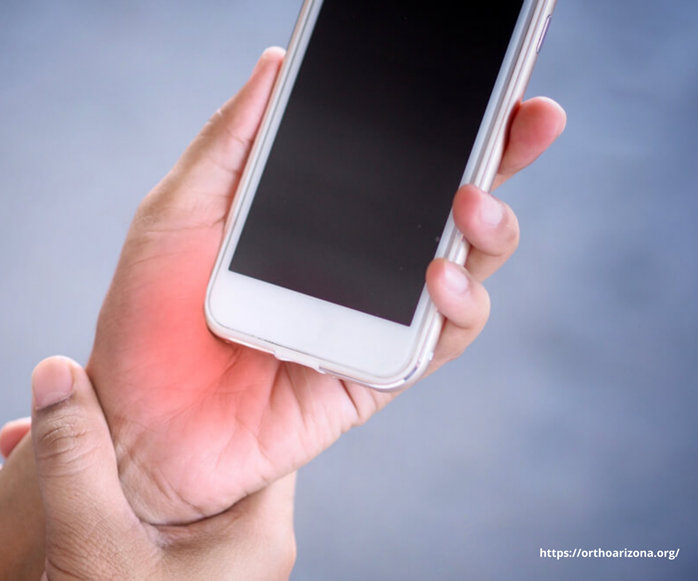 Although the hand is not dislocated or broken, and most of the time, there isn't much inflammation, it can irritate the person experiencing it. We cannot be sure if you are developing tendonitis or arthritis as a result of this.
On the other hand, your body is probably telling you that you need to take a break. I also see patients who believe their carpal tunnel syndrome (wrist) or cubital tunnel syndrome (elbow) is caused by their smartphone use.
Carpal tunnel syndrome and cubital tunnel syndrome have no specific cause, but the associated muscles' overuse can contribute to the disease. People who have had prior injuries could also be at a higher risk of developing the same.
The "Smartphone Pinky" is another smartphone injury that is becoming more popular with extra-large smartphones. This happens when the little finger is deformed or dented due to balancing the handset. Learn about the most common forms of hand, finger, and wrist pain.
Hand-pain-relieving suggestions
Perhaps in the near future, phone manufacturers will introduce an ergonomically fitted smartphone to save all of our hands. But, in the meantime, here are some tricks to keep your hands from hurting from your smartphone.
Switching of hands.
Texting can be limited to short messages. Using voice-to-text or go for a long letter. A phone call is even more convenient.
Instead of typing, use the swipe function, which helps you slide to letters rather than typing.
Before your hand starts to hurt, take a break and leave your phone.
Break up the messaging or gaming sessions into smaller chunks.
Extend the forearms, wrists, and fingers.
Take an over-the-counter pain reliever to minimize swelling and discomfort if your hand hurts.
To text with both hands, place the phone on a table or counter.
Larger phones are probably better for the fingers because they encourage them to spread out further. However, since larger smartphones are heavier, your hand may have to carry the extra weight. It can again result in a "Smartphone Pinky" complication.
When do you seek professional assistance?
You don't need to see a hand specialist unless you experience numbness, tingling, cramping, or stiffness persist after you put down your phone. If your symptoms persist even though you are not using your phone, you can schedule an appointment with one of the best orthopedic doctors in Bhubaneswar for hand injuries.
Suppose you have a repetitive stress injury, carpal tunnel syndrome, cubital tunnel syndrome, smartphone pinky, tendonitis, or arthritis. In that case, an orthopedic doctor in Bhubaneswar will examine your symptoms and possibly conduct some tests to understand the seriousness.
Freezing your hands' movements, medicines, or even surgery can be needed to treat tendonitis, arthritis, or nerve damage caused by stress injuries. The tendons will rest if the region is immobilized for a few weeks.
Medications may be used in conjunction with or instead of immobilization. Whether it's an injection or an oral drug, the purpose of drugs is to reduce inflammation. Surgery is the end choice and is rare in hand injuries that develop purely by using a cell phone.
It is almost impossible not to use a cell phone these days. However, by following these nine tips, you can reduce pain and potential harm to your hand caused by the gadget.
Frequently Asked Questions:
What is the most effective way to treat sprains and strains while handling phones?
Texting should be limited to brief communications. Instead of typing, use the swipe feature, which allows you to slide to letters rather than typing.
Before your hand starts to pain, take a break and put down your phone. Break up your texting or gaming time into smaller chunks. Extend your forearms, wrists, and fingers.